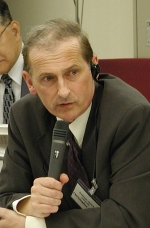 Christopher C. Hood, CBE, FBA, Gladstone Professor of Government, ACSS, Fellow of All Souls College Oxford and Fellow of the National Academy of Public Administration (United States), ESRC Professorial Fellow 2011-2014 and Visiting Professor, LSE, 2010-2014.
Christopher Hood specializes in the study of executive government, regulation and public-sector reform and his current research is on changes in aspects of central government administration over the past 35 years, funded by the Leverhulme Trust and the ESRC. Further details can be found on the website Reshaping Executive Government. Before coming to Oxford in 2001 he held chairs at the London School of Economics (he was head of the Government Department there from 1995 to 1998) and the University of Sydney, NSW, and he has also worked at the universities of Glasgow, York, Bielefeld, the National University of Singapore and the City University of Hong Kong. Christopher Hood has received a number of awards for his research and publications over his career, including the H. George Frederickson Award for Career Contributions to Public Management Research and the 2011 William E. Mosher and the Frederick C. Mosher Award for his article "Can We? Administrative Limits Revisited" by The American Society for Public Administration (ASPA).
Christopher Hood was Director of the ESRC Research Programme Public Services: Quality, Performance, Delivery from 2004 to 2010. He was a Council member of the Nuffield Council on Bioethics from 2008-2010 when he was chairing the Working Party on Medical Profiling and Online Medicine whose report was published in 2010.
His publications include The Limits of Administration (1976), The Tools of Government (1983) (updated as The Tools of Government in the Digital Age (2007) with Helen Margetts), The Art of the State (1998 and 2000) for which he was awarded the Political Studies Association's W.J.M. Mackenzie Book Prize in 2000 and The Blame Game (published by Princeton University Press in 2011).
Email and telephone: please use the University of Oxford Contact Search.
Mail: All Souls College, Oxford, OX1 4AL, UK.